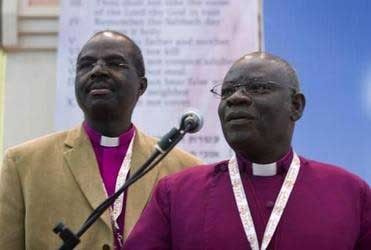 Picture: Archbishops Henry Oromobi (Uganda) and Peter Akinola (Nigeria), two of the leaders in African Anglicanism

The African bishops of the Anglican Union, 400 of them, met in Entebbe, Uganda, last week. The Archbishop of Canterbury was invited, and was told in no uncertain terms that black African Christianity (which makes up a very substantial part of the Anglican communion) is unhappy with the consecration of openly homosexual bishops in the Anglican church in the USA. There were suggestions that the African Church, where Christianity is growing fast, should start mission activity in the west, where Christianity is on the decline.

I too believe that the Church should shun homosexual practice, put very crudely because I believe sodomy (which is what the Biblical injunctions are against) and a deep spiritual life to be incompatible. And yes, some mission activity in Europe would not be a bad thing.

But black African Christians coming to Brussels to lecture white Europeans on sin, in particular sexual sin? To be politically correct I should applaud. But I don't. I feel very uneasy indeed at the idea. It has something to do with the fact that Black African religion is still within 3 to 4 generations of a pagan past, whereas I (depending on whether my ancestors are Celtic, Anglo-Saxon or Viking) am about 65, 55 or 40 generations on from there (counting a generation as 25 years). I do not think that paganism is wiped out like that – it lingers somewhere in the soul for generations. And in the condemnation of gay sex I hear not just the Christian argument, but something deeper, more primitive, and more pagan. Something borne out by the impression is that, homosexuality aside, African sexual morality, and also business and political morality in general, is not a shining example.

I think behind this there may be another conclusion (hypothetical so far):

An important vector in mission work, over and above the simply preaching the gospel of salvation through Christ and in the Church, is the level of civilization associated with the preacher. If the civilization your Church is associated with is seen as inferior as the civilization into which you want to preach, your Christian message is not going to get very far.

We see this very clearly in Belgium. We have all sorts of missionaries running around, sent from America and from Africa, both white and black. I know quite a number of them personally. But my guess is that they are not going to have any effect on the native Belgian population, and certainly not on the higher social categories, because they come from civilizations which are considered (rightly or wrongly) as inferior.