Yes, I am 4 days back from Mount Athos. My 10th visit. Our itinerary: Simonos Petras (the picture-book monastery, perched high on a cliff), Dionysios, Iviron and Megistas Lavras (where it all started). Largely on foot. 'We' is me, two Catholic seminarians, and my priest's son. Taking RCs to Athos is always a bit of a risk: some monasteries are uptight will not let them into either the front part of the church or the refectory. My two got turned out of the front part of the church in one monastery –and so did I for not bringing a certain church garment with me. We had four good conversations with monks from the Mount, which is pretty good going for five days there.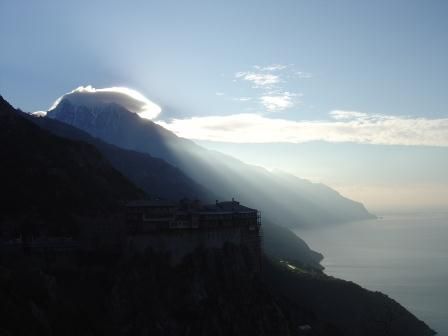 View over Simonos Petras from the northwest
I am very hesitant to write much – there are books and web material galore about the place – too many, often superficial. For me Athos is a pretty intimate experience, and the place reveals itself only slowly, and perhaps on condition of not talking too much about it. This was the first time I went as a cleric, looking rather monkish, apart from a wedding ring, a slightly longer cassock and a shorter beard and hair. It felt right to do so. Yes, something I think happened this time round in my prayer life, like a changing of gears, connected with the Jesus Prayer, which came up on me unexpectedly. But forgive me if I say no more than this publicly.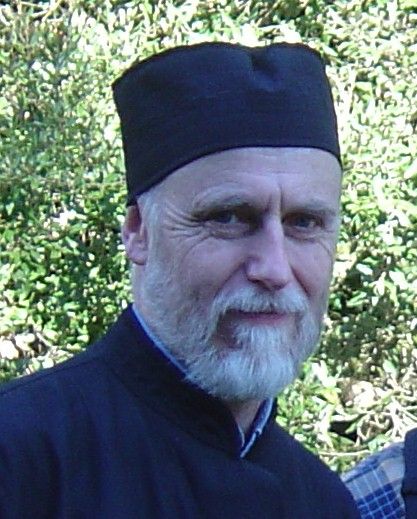 Me, trying to go native...