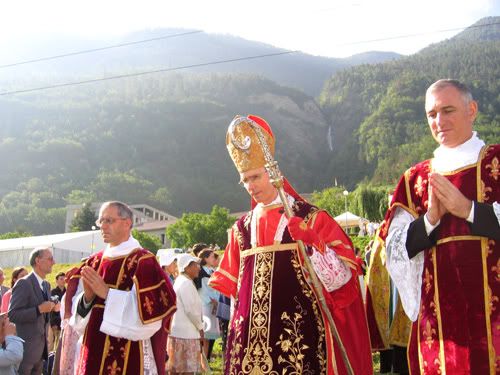 Over coffee today with a Swiss friend, we got into the subject of Ecône – which is shorthand for the Society of Pius X, the conservative raskol in the Roman Catholic Church, started by the late Archbishop Marcel Lefebvre, and headquartered in Switzerland.
Something tells me – and it is no more than an intuition, but feedback is welcome ­– that a coming together of the Russian Orthodox Church with Rome, which part of the Moscow hierarchy seems to want, passes by Econe.
Why: because cut away the 'crazy boys' on the ultra-right, and there is a lot in the movement that feels closer in spirit to Russian Orthodoxy than 'conciliar' (i.e. normal) Roman Catholicism.
According to my colleague, young Swiss men from the better bourgeoisie are flocking to Ecône. Many of the priests include in their names the 'de' which demarcates the French nobility. I suspect that the it picks up a spirit of 'noblesse' (qui oblige!) and a positive elitism which has flown out of the window in modern Roman Catholicism.

On verra. We shall see.