Mme Kordukova came in beaming as I ended my post-liturgy siesta. "I have a present for you." Surprise. And she put into my hands this rather superb pre-Vatican II Catholic Missal. She had picked it up in the flea-market, for free, in a box of old books they were giving away. The cover is worn, but otherwise it is in excellent condition.
Like all Missals, there were little cards in it, which helped piece together its story. It was printed in 1958 or 1959 in Belgium (which had, and still has, an excellent reputation for religious printing), in Dutch and Latin (still then the main liturgical language). It is quite likely the last Flemish edition of the Missal, which was superseded when the Roman Church switched to the local language and changed the form of the mass with Vatican II (1962-65).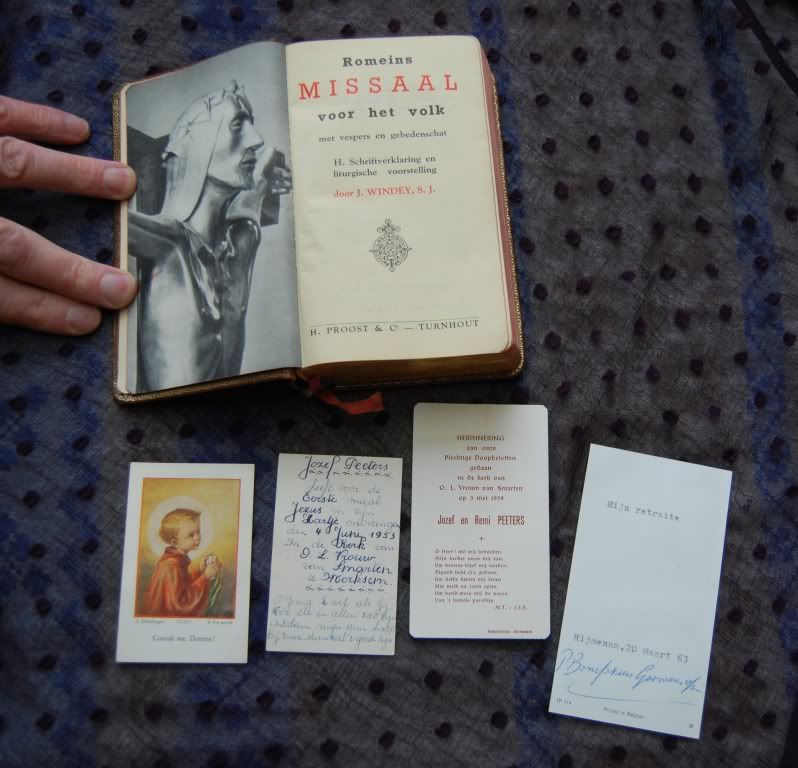 It belonged originally to a certain Josef Peeters, a common Flemish family name, from Merksem, a suburb to the north of Antwerp, and was given to him at his solemn communion, probably at age 12, in 1959. An earlier hand-written card telling us that 'he received Jesus into his heart for the first time' in 1954 (i.e. first communion, normally at age 7), bears this out. The fact that the solemn communion card mentions Josef and Remi suggests that he was one of twins or that two brothers followed closely in age. It has been used, but not heavily, suggesting that perhaps Josef's family were more occasional churchgoers. Another card, signed by a Franciscan priest, tells us that he made a retreat in 1963, at age 16. The absence of cards after that suggests that Josef may have dropped out of church circles. I presume that the Mr Peeters in question is now deceased or has simply cleared out his bookshelves.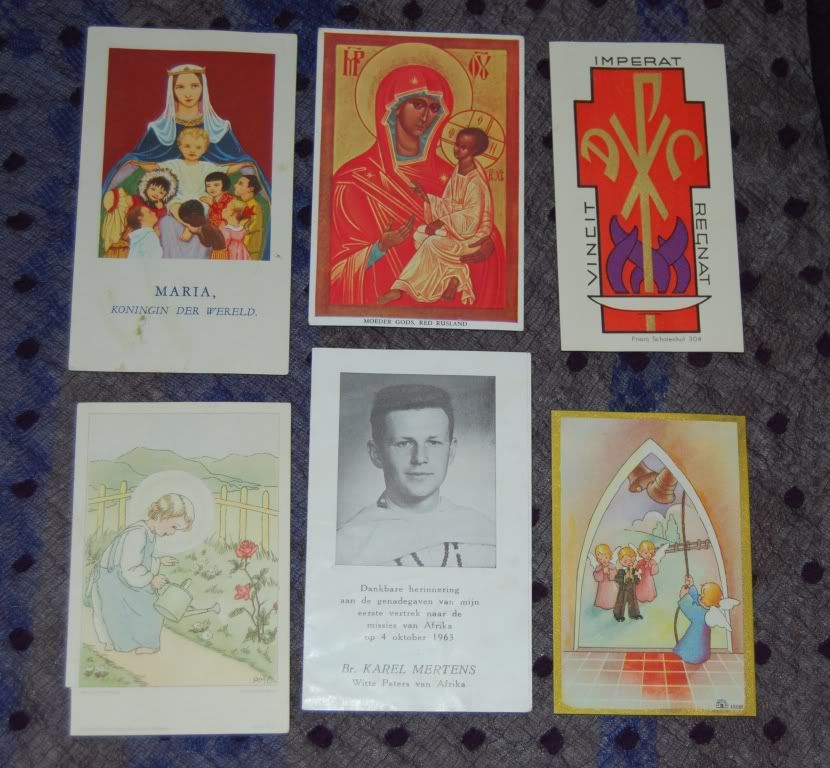 Some of the cards are touching. On the back of the card with a child saint and a watering can is a text from a Missionary College headed 'Can I become a missionary?' and telling how: to become a PRIEST-MISSIONARY you must study well, to become a MISSIONARY BROTHER you must learn a trade - a type of social distinction went out of fashion fast after Vatican II. The tight-cropped young man in white announces the first departure of a missionary brother to Africa with the White Fathers, well-known missionary order (even today there are as many Roman Catholic priests outside Belgium as inside). The Russian-looking card bears the lapidary inscription: 'Mother of God, rescue Russia'. The rather card 'Vincit, Imperat, Regnat' (He conquers, rules, reigns) reflects a certain Flemish, and dare I say, slightly Fascist, piety of the time.